CUSTOM ART FOR INTERIOR DESIGN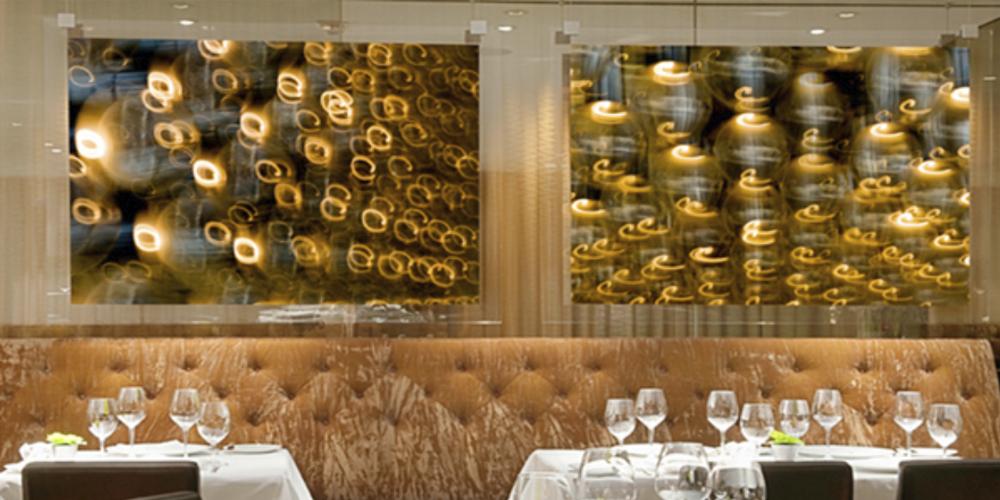 Interior Designers Need Custom Art
Beautiful gold accents with a unique abstract pattern, this custom acrylic artwork is stunning compliment to this high-end restaurant. Working directly with the Interior Designer, Angela's abstract photography was a perfect selection for this space. Images are abstractions of lights found at a downtown Vancouver Hotel that utilized her creative non-altered in camera technique.
Custom Acrylic Art
Custom Art is suspended from the ceiling, these 48" x 72" panels create just enough translucency for staff privacy when entering the kitchen area behind. Artwork was printed on translucent film and applied to the acrylic panel with a 5" clear edge left all around.
Strategic lighting further enhanced the gold ambience in the artwork. Artwork has just enough pattern to attract attention, but the hues blend perfectly with the sparkle and tones of the room. Panels were custom installed with chrome wires and grommets to finish off the polished, custom art feel for this high end restaurant.
Transform Your Interior Design With Custom Art
Angela's philosophy about her art business is not only creating amazing, abstract photography, but also how it can transform any space. It changes how you feel and respond with beautiful, creative artwork that makes a statement.
Working with the Designer, Angela loves to offer ideas and artwork that is unexpected - thus pushing the design project to a level that not only enhances the Designers vision, but also pleases the owner and their clients.
"I love when clients are keen to try new ideas that give their space a memorable custom interior" Angela states, "I bring a unique feel that I know clients connect will with".
Our extensive experience in multiple interior design projects all over the world has brought creative ideas and vision to the collaboration process. We love to push the art boundaries by offering suggestions and ideas, on budget, that add that finished touch to the space.
Learn more About Angela Cameron Artist