6 Abstract Art Ocean Examples That Connect You To The Sea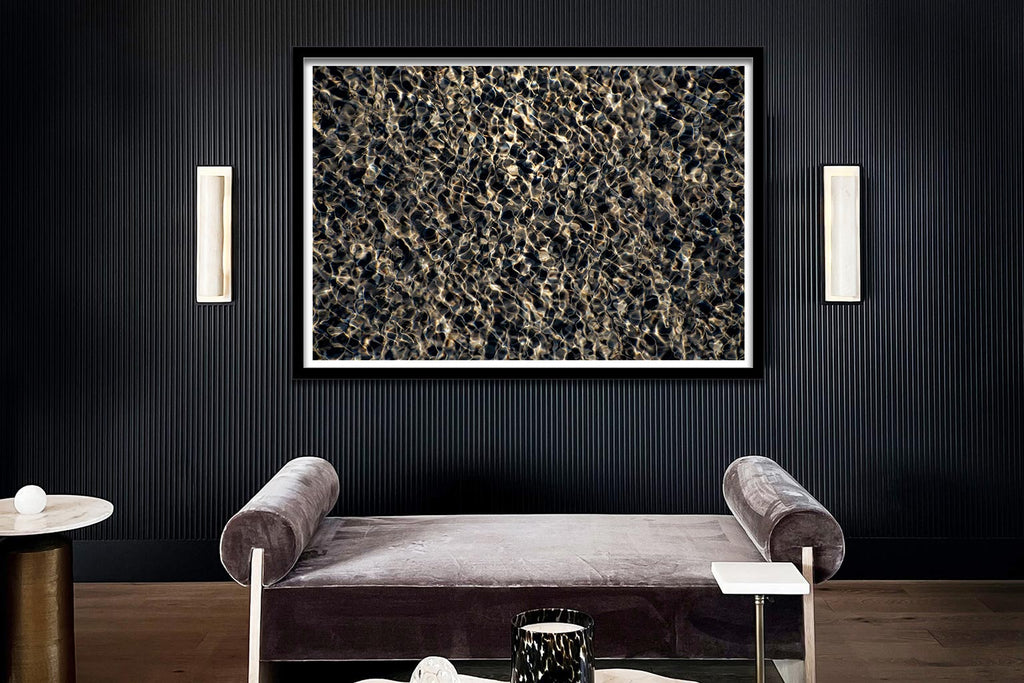 Abstract Art Ocean That Connect With You
There is something appealing about abstract art of the ocean that seems to transcend everyone to appreciate all the nuances - artistically. Ocean lovers, Artists, and Interior Designers all share a love for beautiful, expansive ocean-scapes and unique details of the sea.
Whether it's a striking image of watery reflections or a serene scene of waves crashing against the shore, abstract ocean art is sure to captivate art collectors, art enthusiasts and Interior Designers.
Ocean art, as the name suggests, typically features subjects or scenes featuring the ocean in various abstract forms, as presented by the artists vision and creative approach.
Abstract art of the ocean is a type of artwork that uses the serenity and essence of the ocean and often incorporates colour.
Abstract art oocean is often created by artists who are passionate about the ocean and its environment. This type of artwork can be used to inspire people to care about the oceans, and it can also help them appreciate the beauty of the ocean and what it can bring to your space.
Abstract Art Ocean Will Delight & Inspire
Abstract art ocean has always been a source of inspiration - created by dedicated artists and appreciated by Interior Designers who love unique art for their clients. For many, it is the perfect backdrop for their creative vision and they use it to create stunning interior spaces that often capture the beauty and mystery of the sea. Enthusiasts know that most people love the ocean, relate to the ocean and have a positive connection - whether they live near the sea or vacation there, ocean art will always lend a distinctive relationship that is timeless.
Abstract art of the ocean can be found in homes and offices all over the world, and are selected to add a splash of colour and emotional inspiration to spaces, especially homes close to the sea. Ocean art seems to be a universally appealing subject matter that most people desire and relate to. It's a safe choice for Interior Designers looking for artwork for clients and their interior design projects, as most people would never say they don't love the ocean!
Angela's Ocean Art Style
Angela Cameron creates stunning ocean art with her abstract style. She captures the uniqueness of the sea, on location, exploring the mood and details observed. Her goal is to offer captivating abstract ocean art that resonates and connects. Whether its colourful patterns and details in the water surface, or seascapes with misty watery hues - Angela's art deeply moves you.
Her love of the sea is evident in her extensive ocean artwork - creating artistic photographs at many times of the day to capture the best light. Her multi-dimensional photographs look more like paintings with layers of texture, details and simplicity. Her present works explore minimalist ocean art that care about your simple, easy lifestyle with artwork with minimal hues. Sign up below this page to be informed of her new artwork notifications.
See 6 Examples of Angela Cameron's art below that perfectly present  Ocean Abstract Artwork with all its glory!
Here Are 6 Abstract Examples of Stunning Abstract Art Ocean:
1. Close up views of ripples in the sea surface leaves us with stunning details, shapes and patterns captured - we would not otherwise see or appreciate. The subtle drama of this art piece does not overwhelm, but actually invites the viewer to engage further. 
2. Finding pink reflections on the ocean surface is so unique! These stunning shapes in grey, white and pink have some unexpected order with distinctive texture. Shown here in white or black frame, this abstract ocean art is timeless and modern. 
3. Colour and More Colour! This art pairing is Abstract Ocean Art perfection! Captured in a harbour, this upscale fine art showcases reflections of nearby boats, buildings and sky details. The watery nuances and colour are in each ripple throughout. 
4. This unique watery abstract is truly one of a kind! Layers of colour were captured with many photographic exposures that created this fine art photograph. Angela creates to evoke mood and delight in her work, especially at the sea.
5. The surface of the sea is explored with ripple details in abstract style. This sophisticated statement artwork is the epitome of luxury. The benefit to abstract ocean art, in this case, can be hung horizontally or vertically as desired.
6. Details of the ocean to never be seen in quite the same way again! This abstract ocean artwork only features stunning texture and beautiful natural light. As the sun sets, the oceans surface reflects a poetic aesthetic.
There is something about ocean art shown in abstract form that fascinates many designers. Whether it be the calming and serene feel of an all white ocean surface, or the bright and colourful designs created by artists who love to explore colour, details, mood and uniqueness, abstract ocean art is a popular choice for interior spaces.
Art can be used to beautify any interior, and abstract ocean art is no exception. This type of art can add a lot of excitement and peace of mind to any room, while also being eye-catching. Whether you're looking for something to spruce up a small space or to create a whole new look for your entire home, abstract ocean art is a great option.
Conclusion:
Abstract art of the ocean can be quite an interesting addition to any room in your home. It can add a sense of mystery and awe, and it can also be a source of inspiration for creating unique and beautiful spaces. There are many different types of ocean art, so it's sure to find something that appeals to you.
Whether you're looking for something calming and serene or something more colourful and vibrant, there's likely a piece of ocean art in Angela's  Abstract Art Ocean collection that will fit the bill.
Learn more about art ideas for Interior Design on our blog.