6 Large Photography Art Ideas For Unforgettable Spaces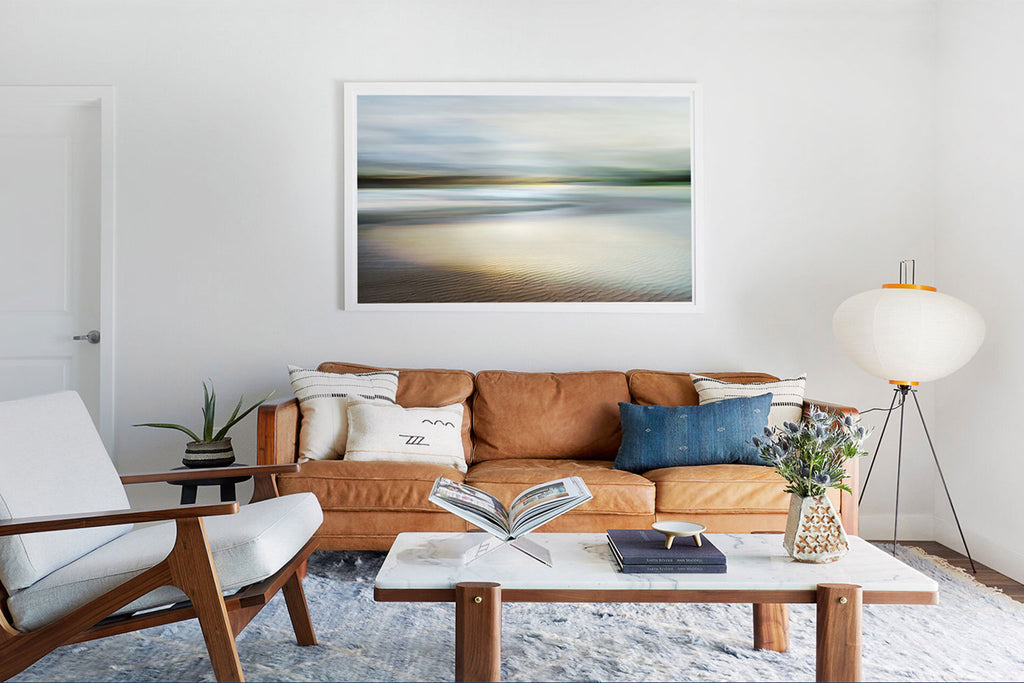 Large Photography Art Ideas For Unforgettable Spaces
Art is said to be the finishing touch, the jewelry in a space. Large photography art makes that even more true. Large photography art adds drama and scale and does create the overall mood that uplifts with the other pieces in the room. The artwork encompasses the clients taste and helps to set the aesthetic for how you live in the space.
1. Large Dark Photography Art Makes A Stunning Statement
Shown above, this stunning dramatic dark space would not be interesting without oversized simple cloud art. The large vertical cloud art, displayed off centre of the console, brings an element of nature to this modern sultry space. Cirrus artwork by Angela Cameron completes the finishing touch for unforgettable style, taste and natural drama. 

2. Large Photography Art For Interior Design Project
This California home above was perfect for Fluent Large Ocean Art one of Angela Cameron's beautiful seascape fine art photographs that features many hues and textures of the Pacific Ocean at sunset. The piece was framed in a modern white frame with no mat, a very clean simple style for todays Design aesthetic. 
Several of Angela's pieces were chosen for this modern space by the Interior Designer and her Client as part of the design direction. The art and decor items were showcased perfectly against simple white walls. The modern space was more uplifting and inviting with ocean artwork that captured the essence of the home location. 
3. Bring Nature Indoors In A Large Way
This Large Photography Art brings not only a natural feel to this tropical space, but also the soft jewel tones of purple, blue and green. Large art pulls a room together with colour that coordinates with pillows and accessories. Flutter is so distinctive with hints of movement in the art piece, it creates a dynamic feel that brings energy to the room.
4. Large Photography Art Impacts Neutral Space
The earthy feel of this neutral living room is more interesting with large photography art River Rapids I. Rocks & rushing water add a distinctive drama without over powering the calm space. Neutral spaces are further enhanced with large neutral art selections that bring emotion, connection and uniqueness.
5. Dark Dramatic Living Room With Large Abstract Art
Dark rooms will get a boost with large abstract ocean art. Orange Ripples coordinates perfectly on darker blue walls as the art makes a statement but doesn't over power the aesthetic of the space. The abstract style of this distinctive art piece adds to the art buyers taste in art. Simple & unique, this type of artwork is memorable and timeless.
6. Large Photography Ocean Art For Your Beach House
Misty large ocean art welcomes you home! If you live near the beach, you must have large ocean art in your space! IMAGINE .. art that makes you feel. Art that resonates and connects - everyday! Large photography art Daydream III does create a mood and involves you in being a part of a special place, especially with neutral decor.
Conclusion:
Large photography art can enhance your life at home. Large artwork creates your best home environment that is meaningful and beautiful. Your tastes and lifestyle are reflected in the art you select - make sure the art conveys an emotion to you - its more than just coordinating art in your space.
All artwork featured here (and all blogs) is created by Award Winning Photographer Angela Cameron. Her mission is for everyone to have art that resonates and connects with you in your space. Art is an important part of your best life at home, the place we all spend the most time. Your decor selections will bring continued connection and peacefulness for you personally.
All of Angela's work is produced with superb quality for stunning enlargement quality - up to 72" for print and over 8ft for murals. "Not many Designers ask me for small art" states Cameron. The drama of large art adds impact to the space, the design and most of all the Clients home for many years to come.
Fluent Art is Featured on MyDomaine