Discover Minimalist Beach Art For Calm Living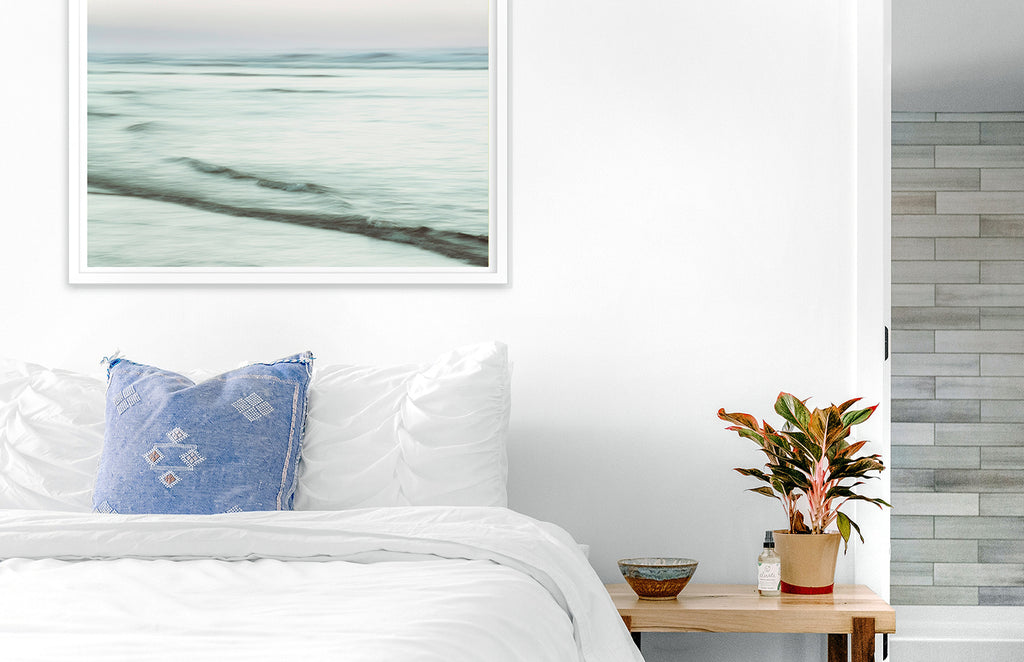 Minimalist Beach Art - Intentional Living With Calm Art
The Minimalist beach art lifestyle explores simplicity, sophistication and a dedication to serenity in your space. Minimalist beach art are the perfect selections for gentle neutral hues that create upscale calm and relaxing beach style. Most people relate to the ocean and find serenity and calm, therefore ocean artwork can be the perfect choice for your Minimalist Home Style.
Blue Beach  Angela Cameron
What is Minimalist Art?
Minimalist art is defined as artwork with neutral colours of white. beige, grey and blue that are the main (sometimes the only) colour in the piece. Select art that has less contrast and without a strong subject matter such as a boat, rock or pier - as they distract from simple composition.
Light and airy pastel tones tend to be the best choices to heighten emotion and connection.
Beach artwork that is minimalist evokes a sense of calm, it creates serenity with emotion. The piece should blend into the decor, but still have a unique presence that lends to the overall style of the minimalist home. 
Large Minimalist Artwork
As I see it, Minimalist art can be defined as less is more, but I think less "things" can create more impact. For example, choosing key items in your home - art, sofa, lamps and tables with neutral colour and clean lines create the minimalist effect you seek. Select large minimalist art that adds impact, but doesn't take over the overall design of your home. Also add other smaller art pieces that coordinate with your main large ocean art piece for a cohesive overall room. 
Framed Minimalist Beach Art Idea
For The best minimalist beach home, select a white frame instead of black. White framed art will always simplify your minimalist home and coordinate with your preferred neutral tones. The white frame is best with modern square profile and not chunky in size. Keep it simple for the long lasting timeless aesthetic. 
Conclusion:
Minimalist beach art is key to a sophisticated home with simple tones and overall monochromatic colour. Simple framing in white will enhance the easy modern feel.
Angela Cameron offers a superb selection of minimalist art in the Ocean Art Collection. Pastel hues and unique beach art prints will satisfy your Minimalist Art needs for your home and office.
Discover All Ocean Art Collections Now!