Best Minimalist Ocean Art With Stunning Examples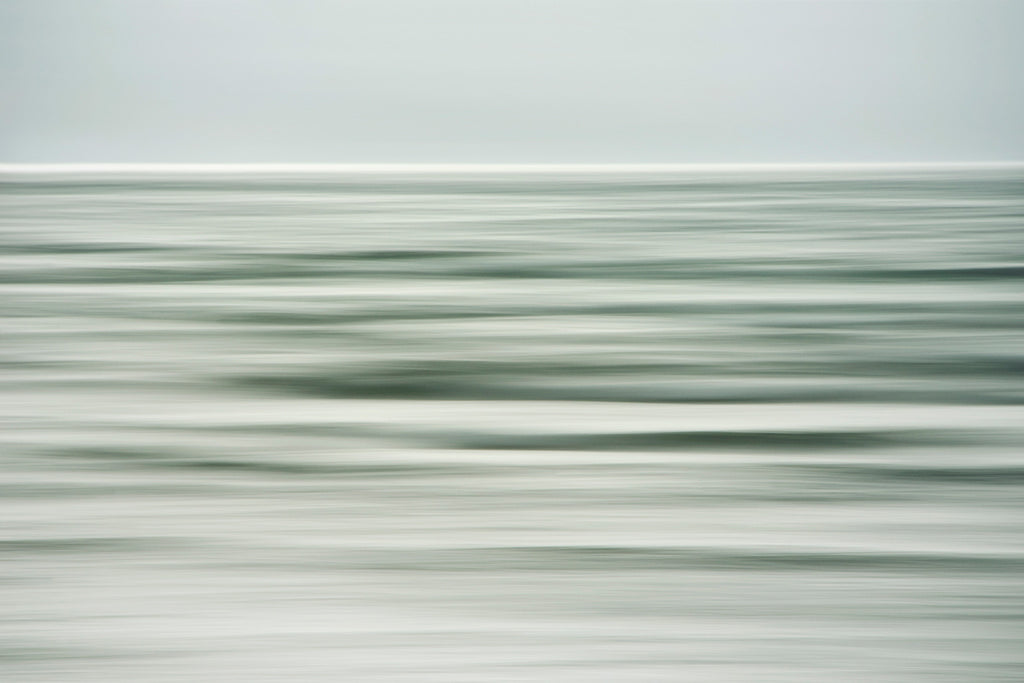 Minimalist Ocean Art For Your Distinctive Home
The best minimalist ocean art explores simplicity in lines, colour and pure form. The idea is to keep the emotional response calming and less complex, art becomes more minimal with beauty and truth. Created with a zen influence, Angela Cameron's minimalist Ocean Art offers monochromatic hues with very little dominant subject matter.
Minimalist Ocean Art Engages The Viewer
The viewer is engaged with a narrative of space and light that appreciates our earthly surroundings for your space. A minimalist art vision offered by Angela Cameron that excludes general scenery of the ocean, but only parts with texture and basic elements that bring us to a more sophisticated interpretation.
Meditative Minimalist Ocean Art
Wave after wave, the ocean at dusk discovers gentle waves in deep grey tones as shown in Serenity above. This fine art piece offers a meditative minimalist art symphony that gives and gives. Monochromatic art also blends to minimalist with simple compositional elements that heighten simplicity and calmness. Your distinctive home will be enlightened with Minimalist Ocean Art that gives sophisticated simplicity with a hint of colour.
With no strong focal point in this art piece, we now appreciate simplicity that is timeless and caring.
Minimalist Art For Interior Designers
Without any dominant subject matter, this ocean minimalist art is the perfect piece for your minimalist interior design. The distinctive hues of turquoise and sea-foam green also lend to the ocean feeling accented with linear wave textures throughout. How to select art for interior design is also important part of the process for Interior Designers and their clients.
One of Angela's favourite subjects to photograph, the sea always gives the right feeling and light that awards Cameron beautiful fine art photographs that speak to the viewer. Learn more about Angela Cameron.
Create A Serene Peaceful Home
After the sun is gone, the ocean turns a beautiful rich blue. The tide is out and we now discover the beach in varying degrees that extend to the horizon. Quiet Evening delivers simple beauty in a minimalist way, not only in composition, but also in monochromatic hues of blue. Minimalist ocean art takes care of the quiet, the serene and the need for a peaceful home. Check out Angela's Ocean Art Collection Now!
Minimalist Design For Distinctive Homes
Grey on grey, this fine art photograph makes us discover simple art as part of your minimalist zen lifestyle. It brings relaxing vibes with sophistication - especially when displaying more than one minimalist art piece together (Vintage Ocean Waves series of 3). Your zen lifestyle is best suited to minimalism style, in your design aesthetic and artwork of course. 
Explore these examples below of how minimalist ocean art dramatically changed how the space feels. Minimalist ocean art enhances and connects without being the center of attention. Simple artwork coordinates and does not overpower - therefore we must consider minimalist art in serene neutral Interior Design projects.
The perfect example of simple art that definitely isn't boring. The immense impact of calm is the whole feeling captured in this upscale dining room.
Only 2 hues are needed to create stunning modern dining room. The white background showcases the blue in the artwork and upholstery. Artwork makes a statement and creates the mood for conversations and celebrations.
This diptych of framed art is in perfect neutral symmetry. Symmetry creates order and sophistication, while the art blends well with the neutral scheme. 
Conclusion:
Minimalist ocean art has so many benefits when adding this artwork to your life and space. The reference to the sea brings calm and peacefulness that only simple ocean art can do. Your love of the sea is reflected in your Minimalist Ocean Art selections that are timeless and modern.
Discover Angela Cameron's Ocean Art Collection Now!