How Simple Wave Art Creates Serenity & Calm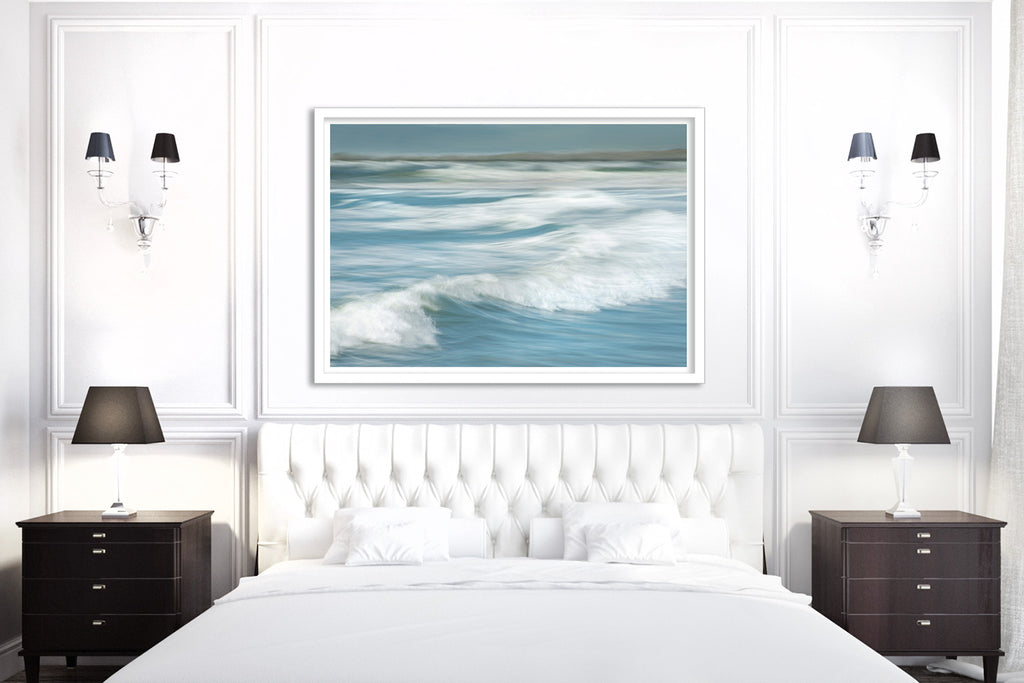 Creating Serenity & Calm With Simple Wave Art
In this article we will explore how Simple Wave Art creates serenity and calm along with beautiful examples to inspire you and further explain what Simple Wave Art is.
We now live in a world where our homes are more important than ever before and must be treated like your ultimate sanctuary. Bringing art that connects to you is a must. Create a space that you love to come home to, feel inspired by and enhances your best life.
Simple wave art connects people to their love of the ocean, positive emotions and calm. Simple Wave Art can also be therapeutic, helping people feel connected to their feelings and surroundings with positive memories. This is why many people turn to wave and ocean art when they need some time to relax or when they are feeling stressed.
Art can be a great way to create and experience peace and serenity, especially at the sea. The beauty of art can trigger emotions in people that can provide a sense of calm and reflection with positive memories of the ocean. It's no wonder then that many artists, including Angela Cameron, explore the power of simple wave art to help people find inner peace and live with art that resonates.
Simple Wave Art Connects You
We know that art can provide a sense of tranquility and peace. It can also help people to connect with their emotions and express themselves, especially with simple wave artwork. Art can be an important part of the healing process as well as bring sophistication to your home and office.
When looking at art, one might not immediately think of how it could help to provide serenity and calm. However, many different pieces of art have been known to have this effect on people. Whether it is a painting that captures the feeling of peace and tranquility, or artistic photograph that can soothe the soul, art can be a powerful tool for relaxation to enhance your lifestyle at home.
When you walk into your home, you should feel at peace. Art can help to achieve this and also serve as a reminder of your past, which is often helpful for people who have positive experiences of ocean vacations and want to bring wave art home. It's amazing how many people choose to display artwork that reminds them of their best times spent with loved ones, travel and favourite places they return to every year.
Now more than ever, we need to enrich our spaces with things we love and appreciate. Your decor choices are very important to your well-being. Artwork selections must be relatable to you the viewer, art collector and interior Designer - to further enhance the goal of beautiful art that draws you in.
Beautiful Examples Of Simple Wave Art
Artist and Photographer Angela Cameron spends a lot of time at the sea. Her love of the ocean and what it brings to her artistic photographs is evident in all her artwork. Capturing the essence of waves at different times of the day - with unique camera techniques all bring a personal feeling and mood.
Here are some examples of simple wave art that are intended to connect with you and bring solace and peacefulness to you and your space.
A great example of simple wave art that doesn't need the drama of large waves. This monochromatic artwork has little color, therefore more attention is paid to the lighting and texture of the stunning ocean water at dusk. There are several pieces in the Sea Sequence series all intended to be displayed together to heighten the calm & serenity even more in the Beaches & Seascapes Art Collection. 
Simple waves grace the foreground while the sun sets in the background. The waves are just the perfect size to create a serene overall mood for this unique seascape artwork. Angela's artistic photography is unaltered and created on location for capturing the essence of the location at the right moment in time. 
This art piece (featured framed above) a series of whitecaps as they come ashore. Repetitive simple waves makes this art create the most visually interesting piece with texture and lines throughout. Created on the East Coast, the soft dusk light allows the waves to be noticed near and far. There is no need for large dramatic waves or any other distractions, we are left to appreciate simplicity through a moment in time, captured perfectly!
 
Have you noticed the details at the bottom of a waterfall? Simple waves found here show us how colourful the water patterns are. Discover the details and nuances in this art piece showing rushing water close up. This piece is dramatic, but not overwhelming, thus calm & serenity have been achieved. Discover more Original Beach Art that capture the beauty all around us.

The ultimate in simplicity, these rows of simple waves showcase beautiful blue and yellow tones found in the Atlantic Ocean at dusk. Larger waves would not create the serenity found here. The repetitive pattern adds to the meditative mood that we all need at home. 
Conclusion:
Angela Cameron shows us some great examples of Simple Wave Art that are intended to inspire and create your best life at home.
Ocean Art
holds some beautiful memories and experiences we want to have surrounding us in our space. There is nothing better than Simple Wave Art that evokes positive emotions, brings visual nuances and details we need to appreciate even more.