How Transformational Art Creates A Space With Purpose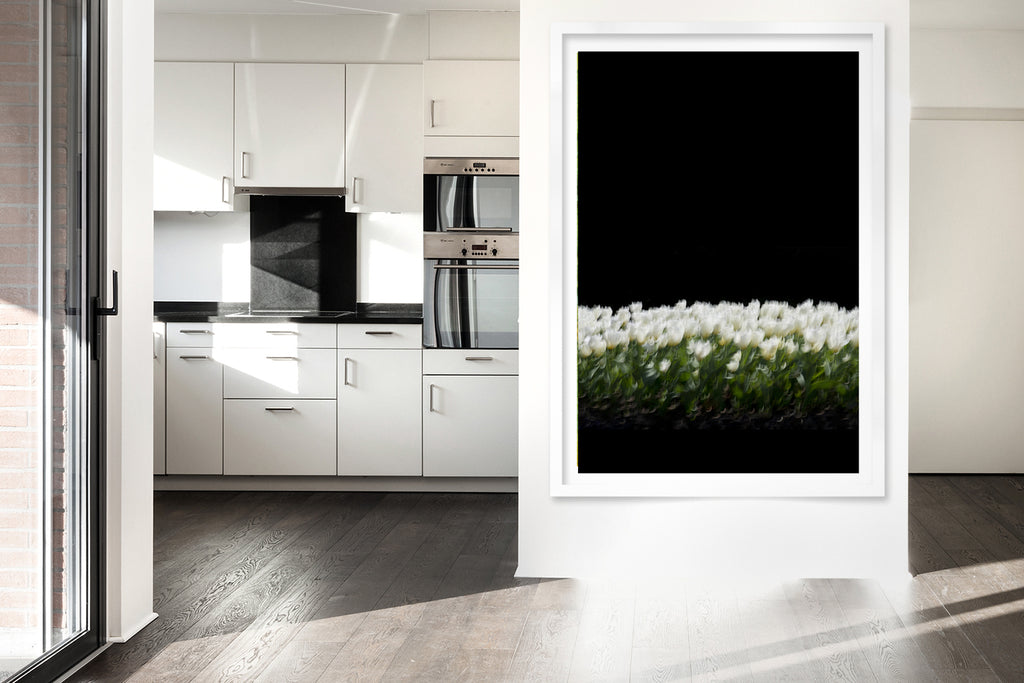 How Transformational Art Contributes To Your Purpose
Transformational Art has the power to transform lives in your space. It can inspire, educate, and make people feel emotive and connected. That's why transformational art is so powerful. It can help us see the world in a new light, and it can remind us that we are all connected to the earth and each other.
Transformational art has been used for centuries by cultures to reflect their values and beliefs. It is a way to communicate with others, and it can be used to improve self-awareness and understanding. Transformational art can also help you connect with your inner self and achieve your personal goals.
The overall feel of this neutral living room is transformed with misty ocean art. The romantic, calm style of this art selection definitely heightens how we live and what we choose to live with. 
What Is Transformational Art?
By definition, transformational art is art that changes or expands the viewer's understanding of the world around them. It can be conceptual, abstract, or emotional, but it always has an intention of helping the viewer see and feel the world in a new way. This type of art has been around for centuries and can be found in a variety of mediums, from paintings to sculptures to fine art photography. Transformational art is discovered through your own personal assessment of what art reaches you, what subject matter, colours and styles make you connect with a piece. You must be aware of what is meaningful to you and how this can benefit your home lifestyle.
Space With Purpose
Creating a space with Purposeful Art is one of the most important aspects for your home. It can make or break a room and can set the tone for everything that takes place in it. When choosing furniture, painting the walls, or anything else you do to embellish your space, make the art you select has a purpose. Purposeful space is one of the most important elements in creating a healthy and productive work environment. Whether you're an office worker or a stay-at-home mom, having a designated space that's conducive to your needs can make all the difference.
A home is where you feel at peace and your heart feels content. Creating a space that has purpose in your life can help achieve this goal. Purpose can be anything from helping you feel balanced to providing you with art that connects and resonates with you. By creating a space with purpose, you can create a home that is reflective of who you are as a person through your taste in art.
Dramatic, but not overstated, this modern floral certainly contributes to the sophistication of the space with colour coordination that keeps the intention and vision of the Interior Designer. 
Transformational Art + Interior Design
Interior Designers use transformational art in their projects to compliment and uplift - not necessarily to match the decor, but more-so make a statement. The Interior Design goal is to create spaces for their clients that are beautiful, personal and literally change clients lives are better at home. Transformational art will be a part of the Designers vision and purpose for the overall aesthetic. Art needs to be more than just coordinate with colour, the art must be more meaningful to the client, after all they will be living with the artwork for many years. Interior Designers are encouraged to reach out to the artist and learn more about the transformational art they are considering. Build a relationship and find out about the artwork, the inspiration and the story - this will help with the overall design scheme and will certainly give the best vision for the space.
Intention / Angela Cameron / Organic Art Collection
Abstract Nature Art with distinctive colour, this art piece brings rich hues into the neutral dining room with style. The space would not be as inviting without this unique artwork that brings elegance and conversation from your guests.
Transformational Art That Speaks
There is something about transformational art that speaks to our hearts and fills us with a sense of awe. Whether it is the transformative power of light or the ability of art to evoke feelings of nature, emotion and capture our attention and leave a positive impression on each of us.
In the 21st century, there has been a resurgence in transformational art. This type of art is often defined as work that engages with the viewer on a personal level, using creative methods to elicit an emotional response. Transformational art can be found in all forms, from traditional painting and sculpture to photographic art. It has the ability to change the way we view the world, and can offer us new ways of looking at our own lives and how a deep connection can be achieved.
Angela Cameron creates fine art photography with this purpose in mind. Her connection to a place is evident in all her work. There is a moment in time, an intuitive feeling that is captured on location. She continually sees and appreciates colour, texture and natural light that brings a visual uniqueness that promises uplifting artwork.
Cultured / Angela Cameron
Beautiful Abstract Tulip Art from the Secret Garden Collection showcases simple black and white art in an all white kitchen. The artwork adds so much distinction to the space while also complimenting the overall style. 
Transformational Art As Fine Art
Transformational art is an emerging trend in the world of fine art. It is a type of art that aims to bring about change and transformation in the viewer. Transformational art often uses provocative, unexpected ideas and emotional connection to achieve its goals - especially as a unique art piece in your home. Transformational art can also help you to express yourself freely and vulnerably, which can be beneficial for your emotional well-being. When you look at transformative art, take some time for yourself to consider what it means to you and how it can help you reach your goals. Transformational art should be relatable in some way, a familiar subject matter such as the ocean or forest, but the artwork should have unique qualities like no other.
Conclusion:
People often turn to transformational works of art in order to find a sense of purpose or meaning in their space. Selecting transformational art you love can provide a way for individuals to communicate their emotions and connect with others. Many people find that transformational art helps them develop a deeper understanding of themselves and the world around them. Transformational art can also help people be inspired in their home and bring a space to a new level of beautify and connection.
All of Angela's Art is created with transformation and purpose - check out New Art Editions Now!