Wall Art For Hotels - Creative Solutions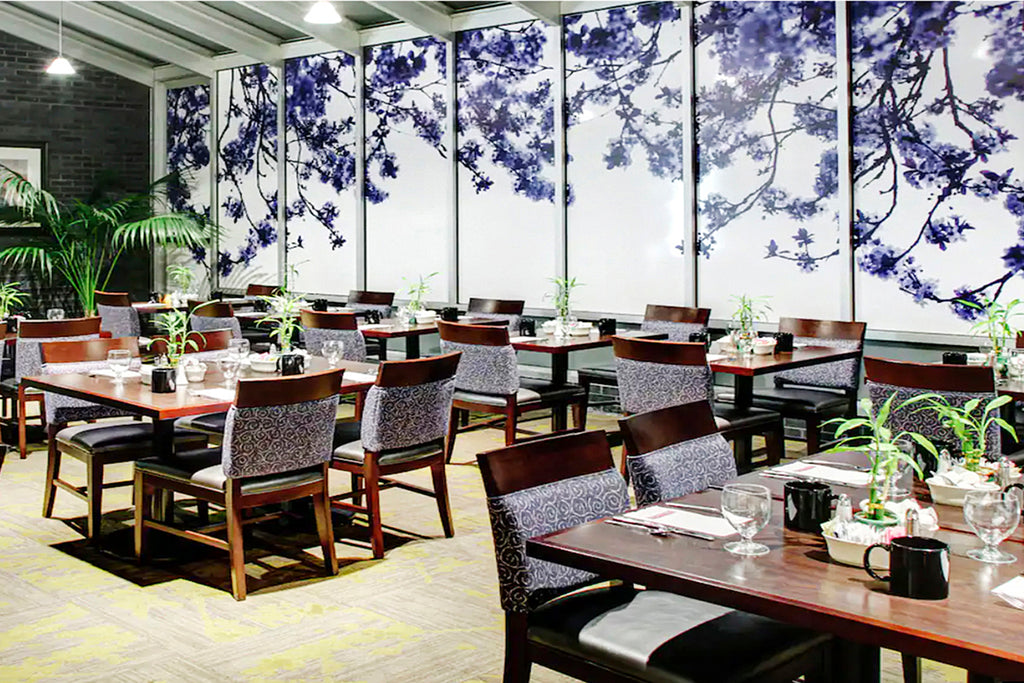 Wall Art For Hotels - Creative Solutions
Printed Window Film Solves A Problem for The Hilton Garden Inn Hotel In Chelsea New York. The dining area explodes with purple themed blossoms throughout hiding an unappealing view, not noticed by guests!
This stunning dining room boasts with a beautiful blossom art display all around the space. Angela Cameron colour adjusted her fine art blossom photography to coordinate with the Designers colour palette, then printed high-res photographic images on window film. The printed window film was applied to glass sections to cover up old buildings next door. A perfect, creative solution to enhance a space with no view.
Floral Art Theme Throughout
Angela Cameron also provided more purple blossom art on the walls printed on metal and canvas to enhance the space throughout and carry the floral theme from room to room.
New Ideas In Wall Art For Hotels
Wall art is typically thought of for framed art on the wall, but we have shown here that wall art can translate to different materials that images can be printed on. The effect here is grand and unique! We collaborate with Hotel Interior Designers to brainstorm visual ideas and solutions that have a very positive effect on the space. The result is a stunning dining area that uplifts with large scale floral all year long!
Conclusion:
Art can be utilized for more than just pieces displayed on a wall. Images can be printed on almost any material now and all we need is some creative thinking to create a stunning spaces in hotels, corporate interiors and your home. 
Tell us about your hotel project - we love to offer ideas and options for unique hospitality projects, worldwide.