Corporate Art Work Mural For PWC Cafe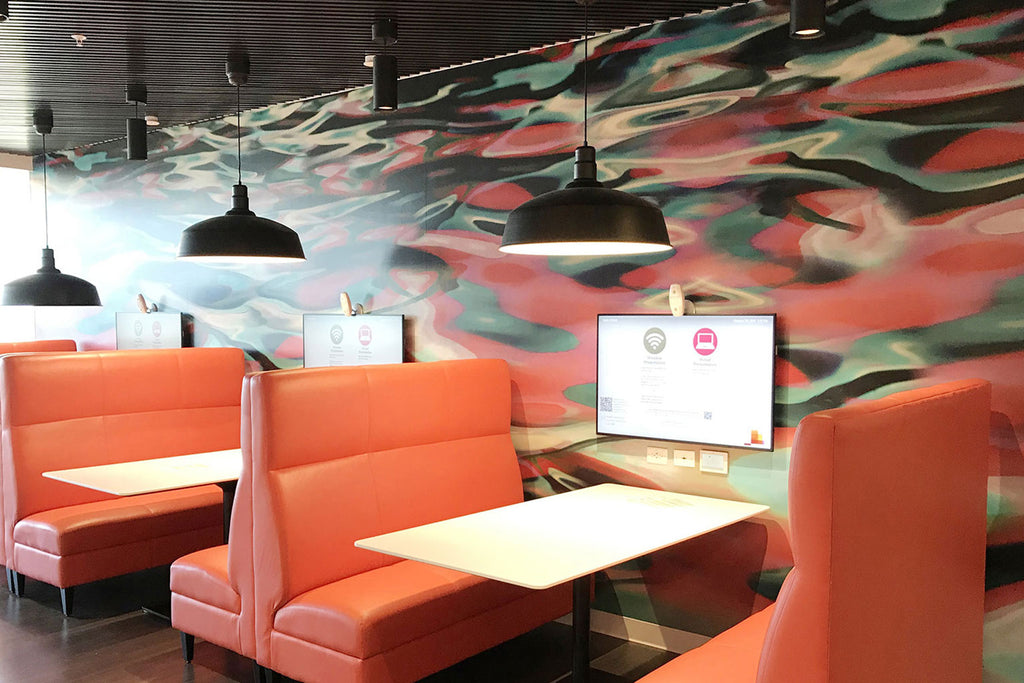 Large Colorful Art Mural
Colour, Pattern & Scale are the key ingredients to this stunning oversize mural at Price Waterhouse Cooper Cafe in Tampa Florida. Angela Cameron's high-res fine art photography expanded over 20ft to create a modern backdrop for the cafe. 
Art hues coordinated with seating and the pattern of the fine art photography in the mural created a one of a kind space for Corporate staff and visitors.
Collaborating with the project manager, several high res images were creatively combined to produce 2 high quality continuous murals, each showcasing abstract fine art photographs. The whole scheme was coordinated through bold hues of fuchsia, orange and red with a hint of teal. Color does have an impact on our mood and this is a perfect example of a space that is uplifting and memorable.
"I can appreciate projects that aren't afraid to explore colour and scale rather than playing it safe with neutral tones". Cameron personally works one on one providing her unique artwork for each individual site specific space. Murals are an art investment and must be selected for uniqueness and quality.
Conclusion:
Angela Cameron's high resolution artwork and has impacted many interior design projects for hospitality, corporate and residential spaces. Clients are now realizing now, more than ever, unique art makes a statement and does have positive effects. Cameron's attention to detail and experience, ensures clients are more than pleased with the end result and most of all, creating an experience for staff and patrons.