What Is Thought-Provoking Art? | How To Select It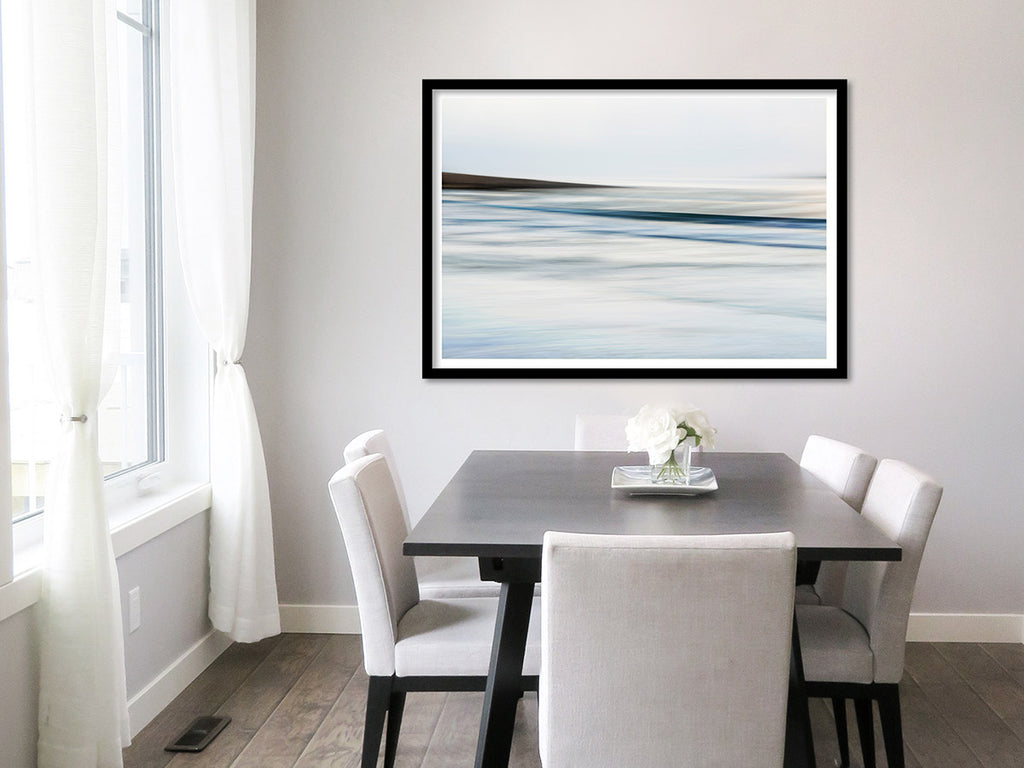 What Is Thought-Provoking Wall Art?
Thought-provoking art creates a reaction within you, it's usually an instant feeling of whether you like it or not. Will you keep looking at the art piece or dismiss it? Thought Provoking art should keep your interest, make you ask questions and want you to learn more about the artist and the art.
Thought Provoking is defined as stimulating careful consideration or attention which is what Art should do for you personally. Be mindful of your response to an art piece, does it capture your attention longer than usual? Does it make you want to learn more about the artwork? You are experiencing thought-provoking art that you need to explore further.
Above art installation displays a single vertical artwork that brings nature indoors in a modern way, but also is the finishing touch to this Interior Design Scheme.
How To Select Thought-Provoking Art For Your Home
Did you know that your home's wall art can influence the way you think and feel? A well-chosen piece of thought-provoking art can evoke emotions, stimulate conversation, or even encourage creativity. So what is the best way to select this important part of your home?
There are many factors to consider when selecting thought provoking art for your home, but here are just a few.
Decide on your personal preference for subject matter - do you connect with the sea, the forest, the city or more abstract style?

Does your space have a large wall expanse? Tall ceilings? A large scale art piece may be your best choice

If your room is smaller, a selection of 3-4 art pieces that coordinate together can have a more intimate impact.

Connect with the artist - buying direct from the Artist has immense benefits from knowing more about the art piece to the artists vision and passion.

Worry less about the colours in the art you are considering - pay more attention to what you love what you gravitate to, what you cannot forget.

Select art that is both visually appealing and emotionally connects with        your inner self.
Seek Solace With Thought-Provoking Art For Your Walls
Coming out of the doldrums of winter, many homeowners are looking for ways to spruce up their home's decor. One way you can make your home more inviting is by adding thought-provoking art. There are many different ways to express oneself. One such way is through art. The ability to reflect on an idea and share it with the world is what separates art from other mediums of expression.
Home, for many people, is a place of solace and refuge where we can remove ourselves from the hustle and bustle of life and rejuvenate.
Eternity  Angela Cameron
Thought Provoking Art For Your Home LIfestyle
The best things in life are those that resonate with each of us. Artwork you select will reflect who you are and what you want your life to be. It's a deeply personal experience and should be experienced with intention. The artist must have a solid, consistent body of work that explores an idea, a place or a technique. Be a part of the artists goals behind the artwork and learn more. Connect with the artist about the collection and their dedication to their craft. The best statement art is the one that you can approach the Artist directly and purchase the art you love. 
Stillness of the Sea / New Artwork / Angela Cameron
This piece above is a perfect example of Thought Provoking Art in simple form. While the artwork is Minimalist, it still creates a serenity and calm within you. Thought provoking art does not have to be busy or loud, it can also be relaxing and inspirational.
Explore more of Angela's New Art Editions Now!
Conclusion:
In conclusion, thought-provoking art is an outlet that many people use to express themselves. Whether you're looking for something fun and whimsical or something more meaningful, there are plenty of options out there!
When selecting wall art for your home, think about what you want your artwork to say. It should be a reflection of what you love, colour, subject matter and style. Always choose what you love and the rest will take care of its self.
Be thoughtful about what you hang on your walls. You want to make sure that the art you choose is meaningful and thought provoking art that speaks to you personally and enhances your home and lifestyle.
Want to learn more about buying art direct from the artist - here is a complete guide to what you need to know.